Posts: 79
Joined: Tue Dec 01, 2020 8:50 am
https://nl.aliexpress.com/item/40004153 ... web201603_
these are interesting
Building a home Cessna 172SP Steam. X-plane/MFS2020
(ex Name on Airmanager forum Polarair)
---
Nice find Mike.
There seems to be a selection of cap designs available which is neat. The switches also appear to be non latching, which is also excellent as any latching is better in software. The LED can also be used for backlighting AND on indication by using PWM. Really neat unit Mike, thanks for the link. Joe
https://www.aliexpress.com/item/4000202 ... 5613%23493
A ring type (such as in option 3 cap above) is as here - and a good price also. There are probably a good selection of caps around. They all seem to use the same switch body.
https://www.aliexpress.com/item/4000284 ... hweb201603
_ (which are actually cheaper than buying the first link I posted above as they contain the switch as well doh.. lol
"Everything in moderation, including moderation."
"Experience is merely the name men gave to their mistakes."
Joe (CISSP) -IT security consultant
---
On a Forum post / thread I mentioned these switches due to them being excellent quality and having the ability to be set to any number of positions between 1 and 12 very easily so thought I would add them to the 'interesting hardware list' as a few were not aware of these and their capabilities.
For those that may not be aware of them and the flexibility they add, If you ever want a rotary switch simply buy the 12 way and then set the number of positions required with the tab ring supplied with it.
A truly flexible unit. You only ever need to buy one type of rotary switch whether you need single pole 2 way up to a single pole 12 way.
They posses a lovely feel, a very positive and clean 'click' and very good detent.
The step angle of each position is 30 degrees so perfect for almost any application I can think of - on an MCP, EFIS or even a Cessna or similar Ignition switch as a 5 position unit. You can make a spring return unit on the 5th position (start) with a bit of ingenuity.
I present a commonly available and cost effective 12 Position rotary switch that can be set to any number of position from 1 to 12 by a tabbed ring that acts as a limit stop.
Check this link and please
note - the price quoted in the link is FOR 5 UNITS !
- a real bargain. The switches I have shown in these images are the exact units it the link and the images taken on my bench with my phone camera.
https://www.aliexpress.com/item/3294718 ... hweb201603
_
Again, the link above is for 5 units. !
How to use and brief description.
Images follow.
Hope that helps someone ?
These rotary 12 pos switches are
really
good quality and can, as seen above, be set to physically limit the number of position between 1 and 12. Highly recommended.
If someone would like to see the internal construction I am happy to take one apart and photograph it. Just let me know. They have also been used in commercial applications for sims such as 'hispapanels' and others. The detent force can be lowered by removing one of the two sprung ball bearings inside. Lovely units and cheap as chips.
Joe
"Everything in moderation, including moderation."
"Experience is merely the name men gave to their mistakes."
Joe (CISSP) -IT security consultant
---
Now, this one is bloody amazing. Again, something I have been searching for for years.
How to make a HARDWARE Altimeter with the dual needles ? - or, any instrument with dual concentric action.
Most of the hardware users will probably know the X27 type stepper motors - the kind used in most automotive dash boards. These are capable of limited rotation or can be set for continuous with a simple snip of a lock tab inside the stepper.
Anyway - if you need more info on the X27 type stepper then just ask.
So, to make an altimeter you need two needles, concentric. Example - One for the 'feet' and one for the '1000 feet'
How about a simple stepper that combines - actually - two steppers with dual concentric operation ! ?? - wouldn't that be amazing ?
Well, I give you this .
https://www.aliexpress.com/item/1005001 ... 4c4df9iRIO
It looks like this - Which is basically two X27 type steppers in one unit attached to a dual concentric shaft - bloody amazing.
You can drive both units from a simple AX1201728SG or VID66-06 IC (cheap as chips from Aliexpress) these 28 pin units can drive 4 X27 type steppers.
Yes, you MAY have to arrange some kind of calibration, but that is not overly difficult.
You may need a SOP to DIP converter (28 way) - but these are only a couple of euro for 10. !
AM says it supports the VID66-6 directly, but, this is VERY VERY misleading as it also, by the same definition - supports ALL the major industry standard stepper controllers that use DIR and STEP as the actual driver controls. - Hence - AM is rather misleading in this area and really needs to change the VID66 speciality definition to generic DIR / STEP controllers - of which there are many.. in fact, every industrial controller, or indeed, hobby stepper driver controller uses the exact same DIR / STEP control. Labelling it as VID66 in AM is very blinkered IMHO.
Anyway. What a superb unit
I am also working on a unit for driving 4 'normal' bipolar' stepper motors from the 28BYJ to the nema 17/ 23 units using A4988 drives with a CNC V3 shield for the uno. This is dirt cheap. ! you can buy an UNO - WITH the shield, AND 4 stepper drivers for about 10 euros.
I have set this up via 'normal' AM (NOT message port)! and it works great.
An example of the complete setup is -
https://www.aliexpress.com/item/4000768 ... 4c4dBD589O
[/attachment] AND this includes the bloody UNO !
Anyway, that is for a later date.
Note, the X27 does need a
DIFFERENT
specific driver as it as virtual one off - ether the speciality ICs - AX1201728SG or VID66-06 - or direct port control from an arduino - but this is a special case.
BUT !
For 'normal' steppers. the CNC shield and A4988 drivers can control almost anything you want - they have up to 2 amps drive per winding, up to 30V control, current limiting - adjustable - and full control over microstepping, - Some possible uses may be - electric trim wheel control, auto throttles, artificial horizon units (replacing the gyros).. anything you want.
The unit was originally designed to control a complete CNC 3d printer unit. As said, it CAN be driven directly from AM.. more to follow on that
Again, these can be used DIRECTLY from AM with the correct code. (
NO message port required
! - normal AM control)
AND, after all the 4 stepper driver controls, you have available up to 6 analog (ADC) inputs and 3 PWM outputs, or - if you want - 9 general purpose pins to use as you want (some caveats apply but just think that you have nine pins to do with as you want) - AGAIN - all from AM directly. A lovely unit. Very flexible.
The 28BYJ units, modded from unipolar to bipolar (simple) have double the torque of the original unipolar units, so become a really useful unit also. The world is your crab - or was in an oyster ?
If you want to know how to mod the 28BYJ from (YUK !
) unipolar to the more common and better standard
Bipolar
- 4 pin dual coils - instead of the (YUK ! 5 pin centre tapped coils that nobody ever uses ! ) then just ask. - hint, cut a single trace on the PCB behind the blue plastic cover,,,,,,,,,,,,,,, and then remove the red wire completely. Job sorted.
Joe
edit - added link to another of my posts with much more information regarding stepper motors and drivers in general. Including the BYJ units etc.
https://siminnovations.com/forums/viewt ... 459#p36459
Last edited by
jph
on Sun May 09, 2021 8:29 am, edited 1 time in total.
"Everything in moderation, including moderation."
"Experience is merely the name men gave to their mistakes."
Joe (CISSP) -IT security consultant
---
Posts: 79
Joined: Tue Dec 01, 2020 8:50 am
Interesting Raspberry Pico with a breakout board.
Maker-Pi-Pico,+ Raspberry Pi Pico only 12,95Eur Includes smt leds for all GPIO locations nice JMT connectors (Grove connectors, Headers, a RGB led and SD Card slot for testing and storing couple of buttons buzzer and a location for the ESP01 stack.. Included is the Pico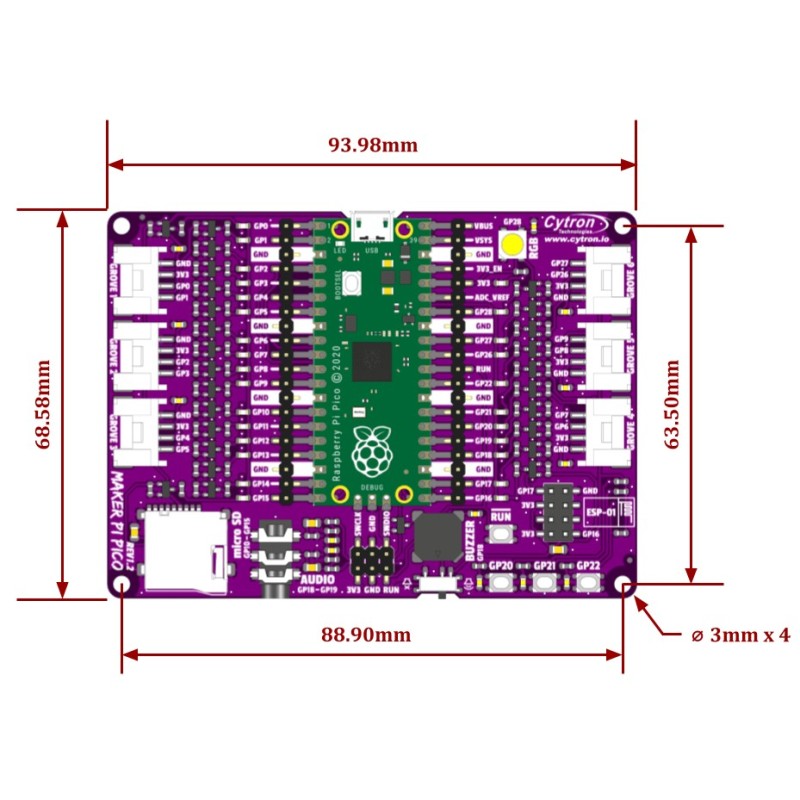 Found in the netherlands but must be found elsewhere. Maker is Cytron
Here is the link
https://www.raspberrystore.nl/PrestaSho ... -pico.html
The Grove connectors are a pain but there are headers so both options available. Onboard connectors to sound and some other things are extras.
Does anybody know the named hardware address? cant find it
Last edited by
Mike Horsten
on Sun Apr 25, 2021 10:21 am, edited 5 times in total.
Building a home Cessna 172SP Steam. X-plane/MFS2020
(ex Name on Airmanager forum Polarair)
---
Nice one MIke ! - If possible, please can you post a direct link to add to the thread for reference ?
I also note that the PICO is gradually being supported by Arduino IDE. Still in development but going well.
The only real concern I would have is the use of the virtually proprietary 'grove' connectors ?? why have they done this - apart from marketing and making money ? these things (the grove connectors) are like rocking horse shit to get hold of.
Strange why they should go that route.
JST would have been fine and far more likely to see due to availability.
It will potentially be a great addition. A lovely board.
Joe
"Everything in moderation, including moderation."
"Experience is merely the name men gave to their mistakes."
Joe (CISSP) -IT security consultant
---
@JackZ
Hello Jacques and good morning. You appeared to be very interested in the following so I wanted to add far more info as promised.
Regarding the square push button switches with LED (the MCP 'type') ones that are mentioned earlier in this thread.
I thought you (and others) may appreciate an update now I have them here.
Ok,
First, they are of superb quality. Really first class. A very positive push action with great feel. About 3 or 4 mm of travel. Definite positive 'click' - top quality feel . If I were to mark the quality of various aspects of the unit, then it would simply be 10 out of 10 for all - especially as a sample I have out of the ordered ones was stripped down on the bench here so the overall quality can be properly assessed.
As mentioned in the first post they come with a red led - the only option. I mentioned replacing the red with a tricolour unit, but, on disassembly, it is clear that the most appropriate path is to simply replace the red with a greed LED (or whatever colour you require).
The LED you need is an 'square' led (as they are called....
- but really rectangular.. but hey ) of size 5x2x7 mm.ie, the visible part is 5 x 2 mm, and the length is 7mm. the 5x2 is standard, the length can be 5 or 7 so make sure you go for the 7mm unit.
There is no soldering required to replace the led. The led power is transmitted by brass springs to the base. It is a simply swapped out. I have ordered a mixed pack of single colour 2x5x7 leds and will show the fitting when they arrive, but I am sure you can get the picture.
I include images of the unit completely disassembled for info. I learnt, after complete disassembly, that you actually only need to (carefully) remove the actual push button and the white LED holder beneath. This can be done with a couple of guitar pics - for example/ - I can provide more details of needed. The rest of the unit can be untouched, but, the images are useful for seeing the construction.
The actual switching part is first class quality - as is the whole unit.
Here are some images - I can add more detail if needed but it really is only a case of carefully removing the actually push button part and sub assembly / led holder.
The LED is not soldered!. it is simply bent pins connected to two brass springs about 2.5cm long that connect the LED to the actual bottom pins on the unit. Really neat.
You see the actual springs in some of the images.
Hope these make sense - and please excuse the crappy camera on my phone
Switch completely disassembled (NOT needed for LED change - as I found out
) but good to see - and I needed to do this to actually see WHAT needed to be disassembled and, what the internal quality was.
-
These parts below are actually the only parts need to be removed to change the led. -
The right hand parts are the only ones needed to be removed and altered. (the white part with the LED which is under the switch button) -
Comparison of size in relation to a standard Arduino UNO. -
Close up of the actual internal switching mechanism (quality !)
The leds' I ordered were cheap as chips -
https://www.aliexpress.com/item/32881076724.html
?
Just ensure you use Aliexpress tracked shipping - only a couple of dollars more and get here in a week or two.
"Everything in moderation, including moderation."
"Experience is merely the name men gave to their mistakes."
Joe (CISSP) -IT security consultant
---
oh, these are the LEDs from the link above -
"Everything in moderation, including moderation."
"Experience is merely the name men gave to their mistakes."
Joe (CISSP) -IT security consultant
---
VID6606 stepper driver -
For example - Suitable for the dual concentric X2x stepper unit in an earlier post in this thread. Or any micro instrument type stepper.
if anyone wants to use the VID6606 for their own project then there is a much cheaper option than the propwash or similar boards - especially if you are driving a lot of X27 steppers !. if your soldering skills are reasonable - and they only have to be reasonable.....
then you can just buy the ICs (the VID66-06) and a SOP 28 to DIP28 adapter (the DIP28 uses the standard pin header pitch of the arduino or standard veroboard, project boards etc. - 2.54mm)
You only need to add a single electrolytic capacitor of around 22uF for the steppers (calculated at around 5uF per stepper in use), and a couple of 0.01 uF ceramic caps to the IC VDD VSS
They are not even absolutely necessary but better if you want to go the whole hog.
Total cost per unit is around 2 or 3 dollars. Each unit supplies 4 X27 or X2x or VID2x type steppers - in fact virtually ANY stepper used in instrument displays in cars boats etc.
Just a thought for some who may like to roll their own.
If you look at the datasheet for the IC, it is also clear that the pin outputs for the steppers (ie Stepper 1 A,B,C,D) are all together in a block so perfect for a pin header with no additional track routing, this applies to the other 3 outputs as well. It couldn't be easier as far as wiring goes.
Apologies for crappy image, my camera is being a bit of a begger today.....
Also, here is the datasheet for the VID6606 for the X27 type steppers. (162.63 KiB) Downloaded 2 times
Have fun.
Joe Links to AliEx for parts -
https://www.aliexpress.com/item/3301693 ... 3099GeKEfA
https://www.aliexpress.com/item/3225991 ... 4c4dGgYQc7
As can be seen, the 28 pin DIP to SOP / TSOP breakout board is reversible so can be used with both SOP and SSOP ICs - the tracks are on side, just chose the one you want. A truly versatile board.
Joe
"Everything in moderation, including moderation."
"Experience is merely the name men gave to their mistakes."
Joe (CISSP) -IT security consultant
---
Update on this lovely square push button switch with LED/ - only available in RED so far - but EASY to change to any colour you like'
Ok, here is an update after I FINALLY got the correct leds. There are images of the switch tear down earlier in the thread.
There is absolutely no issue to change to whatever colour you want - I show a line up of LEDs - the original red, then the green ready for trimming the leads - which is ALL that need to be done, also the other colours possible
It is absolutely piss easy to change led colour - no soldering, nada. - just carefully remove the switch button and the led holder behind it and put in the new LED. The led is contacted by springs so no soldering required. Add any colour you want. You only need to bend the leads on the led and cut them to length to match the original.
Please note - the GREEN is a definite nice GREEN ! - it looks to have a slight yellow tinge but that is the fault of my camera.
I was also using a 330ohm resistor as a current limiter as I had one handy, a 470 would be better. - or of course to simply use the hw led function and adjust the brightness option which can double as as a backlighting function as well. Please forgive my 'bench' haha... too many stepper motors and other crap.
"Everything in moderation, including moderation."
"Experience is merely the name men gave to their mistakes."
Joe (CISSP) -IT security consultant
---